Her Own Health is a participant in the Amazon Services LLC Associates Program, an affiliate advertising program designed to provide a means for sites to earn advertising fees by advertising and linking to amazon.com
It's not easy to follow vegan diets during holidays since everything you can think of needs butter, eggs, and milk. But don't worry, we have recipes that would satisfy everyone this time of year with our collection of vegan holiday recipes. So stay healthy even and enjoy delicious food without feeling guilty.
Here we have collected some of the best Vegan recipes that you can enjoy this festive season. Whether your guests are vegan or not, they will definitely enjoy these recipes, tasty, flavorful dishes. So try these recipes and get ready for amazing compliments from friends and family.  
VEGAN APPETIZERS
1.) Cucumber Hummus Sesame Seed Mint Appetizer Bites – Vegan Gluten-free Recipe
It's a super easy and refreshing cucumber bite-size recipe that your friends and family will surely enjoy. Garnish it with seeds and mint to give it a more refined and sophisticated look. Want to try? Get the recipe from Kaylns Kitchen.
2.) Two-Bite Vegan Baked Potatoes
These two-bite baked potatoes are the tastiest and the most flavorful appetizers. Serve them with cheese or your favorite vegan dips.  Get the recipe from I Love Vegan.
3.) Coconut-Curry Sweet Potato Mousse On Zukes or Cukes
This coconut and sweet potato mousse will make a great appetizer or snack. It is super light and fresh that even your picky family members will love. You can get the recipe from An Unrefined Vegan. 
4.) Spiced Samosa Pinwheels
These small pinwheels are easy to make with a few ingredients. With all the Indian spices, we are pretty sure that you won't be able to stop yourself with just one. Get the yummy recipe from Rookie Rasoiya.
VEGAN MAINS: PASTA AND SOUPS, LASAGNA, AND MANY MORE
5.) Masala Mac and Cheese with Indian Spices
The cheese sauce in this recipe is infused with Indian spices and cashews that make it flavorful and delicious. You can use the traditional spices together with Indian ones to make it a complex, intriguing flavor. Learn the recipe from The Flaming Vegan.
6.) Vegan Pumpkin Sage Pasta With Pumpkin Cream Sauce and Crispy Sage
With fragrant herbs, warm creamy pumpkin sauce with the fresh herb flavor pasta is a perfect combo for cold winter days. Enjoy it any time of the year or for exclusive parties. Get the recipe from Vegan Richa.
7.) Lazy Day Vegan Tomato Bisque
Soup is one dish that you can enjoy every single day of the year. This recipe is simple and easy to make, and we are pretty sure that it's going to be your next favorite dish. You can learn the recipe from The Vegan 8.
8.) Asparagus Basil Soup
This Asparagus Basil Soup is simple, quick to prepare, and delicious with fresh asparagus, basil, dill, onions, and cashews. You and your family will love this super creamy, vegan, and Gluten-free Recipe, so get the recipe from The Feed Feed.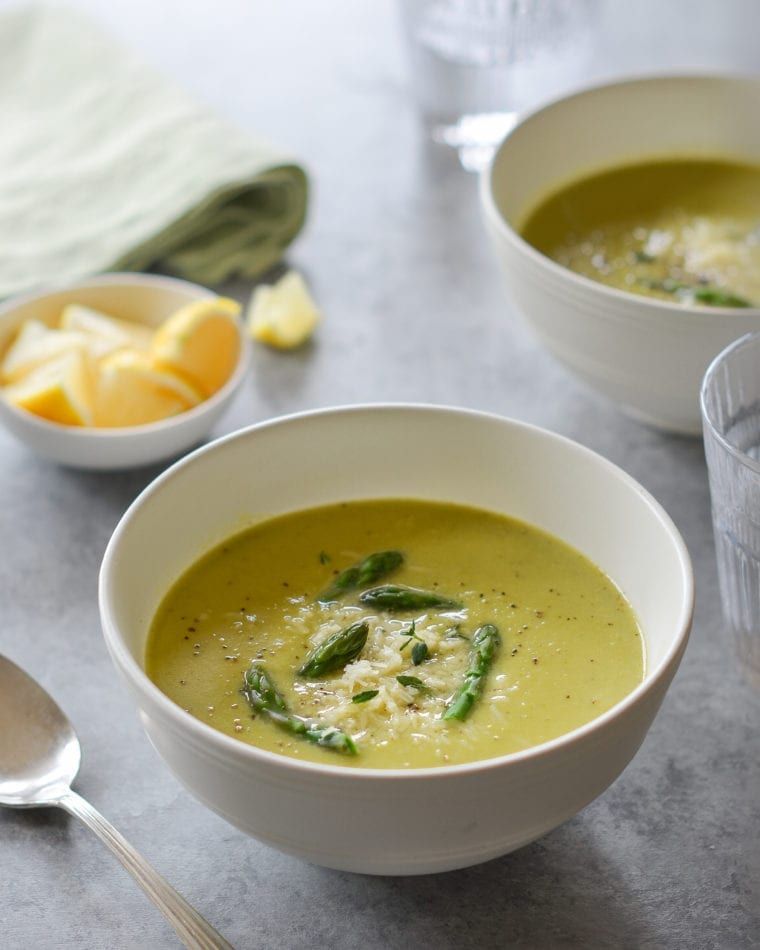 9.) Somer's Vegan Cream of Mushroom Soup
This Vegan, gluten-free, oil-free Cream of Mushroom soup recipe is creamy and delicious. It won't take more than 30 minutes to ready this yummy soup. Click here to get this recipe.
10.)Mushroom Chickpea Soup With Veggies And Greens
  Perfect peppery brothy soup is ideal for chilly winter days. It is easy to make soup, and you can add any veggies that you have in your fridge in it, and it will still taste super yummy. Learn this recipe from Vegan Richa.
11.) The Ultimate Vegetable Vegan Lasagna
 What could be better than warm saucy, cheesy veggie lasagna on a cold winter night! Impress your friends and family with this delicious recipe and be prepared to get compliments from everyone. You can get the recipe from Simple Veganista.
12.) Super Creamy Spinach Artichoke Vegan Lasagna
 This is the best vegan lasagna for the reason that it is filled with super creamy spinach artichoke dip. Try this for your family and friends, and soon, it would be one of your most popular recipes. You can get the recipe from Stacy Homemaker.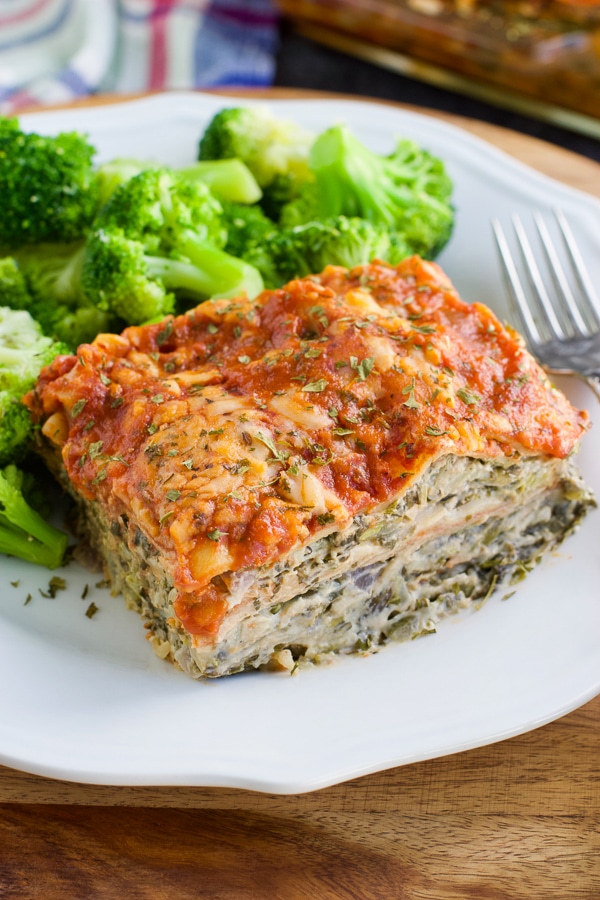 13.) Cauliflower Steaks With Mushroom Gravy
These Cauliflower Steaks are served with yummy, creamy Mushroom Gravy. It could be served as a main dish, and it's totally vegan and gluten-free. Wow, your guests this festive season with this easy recipe. Click here to get the recipe.
14.) Vegan Eggplant Parmesan
This is yummy, mouth-watering deliciousness with lightly breaded eggplant with layers of vegan cheese sauce and tomato sauce. Try this at home for your family during this festive season. You can get the recipe from Fat-free Vegan Kitchen.
15.) The Ultimate Vegan Thanksgiving Loaf With Cranberry Glaze
This holiday season shows everyone that vegan Thanksgiving dishes are as tasty as any other non-vegan dishes. So try this ultimate loaf that is vegan, gluten-free, and soy-free. Get the recipe from I Love Vegan.
16.) Vegan Instant Pot Portobello Pot Roast
This Vegan Instant Pot Portobello Pot Roast recipe is the perfect dish for cold winter days. No pot roast even comes close to this. If you are looking to impress people with your cooking skills, then definitely try this. Get the recipe from A Virtual Vegan.
17.) Mini vegetable pot pie
This small veggie pot pie is the perfect dish for your holiday gathering. These gorgeous pies are full of vegetables, beans, and a creamy cashew sauce. Totally vegan! You can get the recipe from Cardy's Kitchen.
Vegan Desserts
18.) Indulgent Vegan Chocolate Cake With Coconut Whipped Cream
A luxurious vegan chocolate cake, perfect for holiday parties like Thanksgiving, Christmas, or any family gatherings. Get the recipe from Tinned Tomatoes.
19.) Vegan Tiramisu Trifles With Coco Whip
These Vegan Tiramisu Trifles don't just look tempting; they are delicious, in fact, addictive. This recipe is free of dairy, egg, nut, and yeast, and you can put it all together in no time. Want to try? Get the recipe from Sweet and Savory Meals.
20.) Mini Vegan Pecan Pies
These vegan pecan pies are the perfect make-ahead dessert for holiday parties or Thanksgiving and Christmas. Learn how to make these tiny beauties from Yummy Mummy Kitchen.
21.) Vegan Chocolate Cake with Chocolate Peanut Butter Ganache
This Vegan Chocolate Cake with Chocolate Peanut Butter Ganache is super moist and is a perfect dessert to please kids during holiday gatherings. Get the recipe from Vegan Richa.
Try these recipes and make vegan eating look fresh, delicious, and interesting. Bon Appetit!
-Shameka Renee
Results may vary. Information and statements made are for general purposes and are not intended to replace the advice of your doctor. Her Own Health does not dispense medical advice, prescribe, or diagnose illness. The views and nutritional advice expressed by Her Own Health are not intended to be a substitute for conventional medical service. If you have a severe medical condition or health concern, see your physician.