Her Own Health is a participant in the Amazon Services LLC Associates Program, an affiliate advertising program designed to provide a means for sites to earn advertising fees by advertising and linking to amazon.com
During the holidays, it can be really easy to wander away from your ketogenic state. Your Keto journey is essentially a lifestyle change, not a mere diet. So, it's essential to have some Keto Holiday Recipes on hand so you can make food that tastes amazing with all the delightful holiday flavors, without compromising your Keto progress.
Whether its entrees, sides, or desserts, here you will find some wonderful recipes. These keto recipes offer amazing holiday flavors, with keto-appropriate ingredients to make your meals enjoyable, flavorful, and healthy.
KETO APPETIZERS
1.) Keto Deviled Eggs
This bite-size keto appetizer is full of flavor and sophistication that will surely wow all your guests. Serve this in an upcoming party or holiday, and be ready to get amazing compliments! You can get the recipe from Diet Doctor.
2.) Keto Prosciutto-Wrapped Asparagus with Goat Cheese
Combine delicious asparagus, velvety goat cheese, prosciutto, and you will get the perfect triad of flavors. It's elegant and mouthwatering yet so simple that you won't have to worry too much about prepping. You can get the recipe from My Life Cookbook.
3.) Keto Stuffed Mushrooms
It's a super, simple yet delicious recipe. You can enjoy these nutritious and yummy keto bites as an appetizer. Now you can learn to cook this healthy, earthy deliciousness very easily. Get the recipe from TJ's Taste.
4.) Charcuterie Platter
If you don't want to spend too much time on an appetizer, this here is a winner. You can make it easily any night of the week or even for parties. It is low-carb, nutritious and gives your guest plenty of variation and options to choose from. Click here to find out what's in the platter.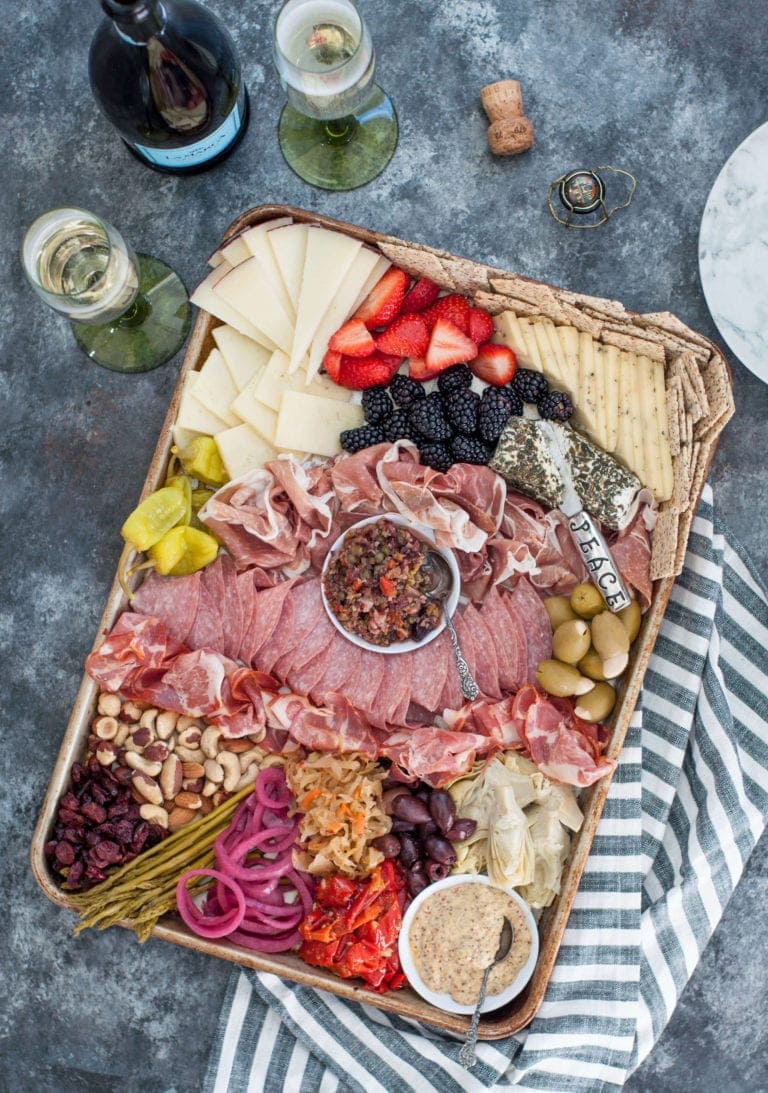 5.) Keto Shrimp Cocktail
This keto appetizer is really easy to make and comes together literally in minutes. It can be a super yummy and fishy start to a joyful dinner or a delicious item in a buffet. Simply click here to get the recipe!
6.) Keto Sandwich with Smoked Salmon and Horseradish Cream
Quick and easy to prepare mug bread with piquant smoked salmon and horseradish cream is the right kind of crispy and delicious dish. These are tiny sandwiches with huge flavors. Try this keto delight for your next house party. You can get the recipe from Joe Keto.
7.) Brussels Sprouts Bacon Bites with Aioli
Brussels sprouts paired with bacon is one delicious combo that's a must-try. If you are not a Brussels sprout fan, then try with bacon, and you will surely love it. Make these Brussels sprouts and Bacon Bites with Aioli and get ready to impress your guests and family members. Get the recipe from The Zesty Bite.
KETO MAIN DISHES
8.) Bacon-Wrapped Keto Meatloaf
This recipe is going to be your most comforting and satisfying dish. Two super yummy foods in one recipe; meatloaf wrapped in bacon with perfect seasoning to make your holiday season more special. Get the recipe from Delish.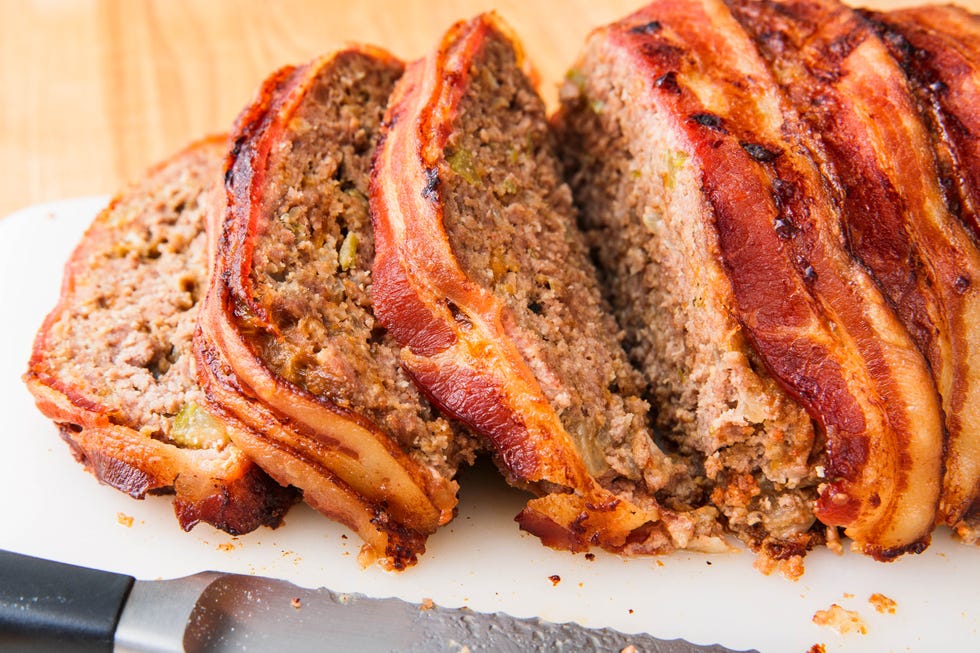 9.) Slow-Cooked Keto Pork Roast with Creamy Gravy
Slow-roasted, juicy meat is the best kind of meat. Mouthwatering garlic and aromatic rosemary create a perfect blend of flavors that will surely melt in your mouth. Click here to get the recipe that you and your family will love.
10.) low-Carb Stuffing 
Want to impress your family and friends this holiday, then try this stuffing! Made with simple and amazing ingredients, you will not be able to get over how delicious it is. Click here to get the recipe.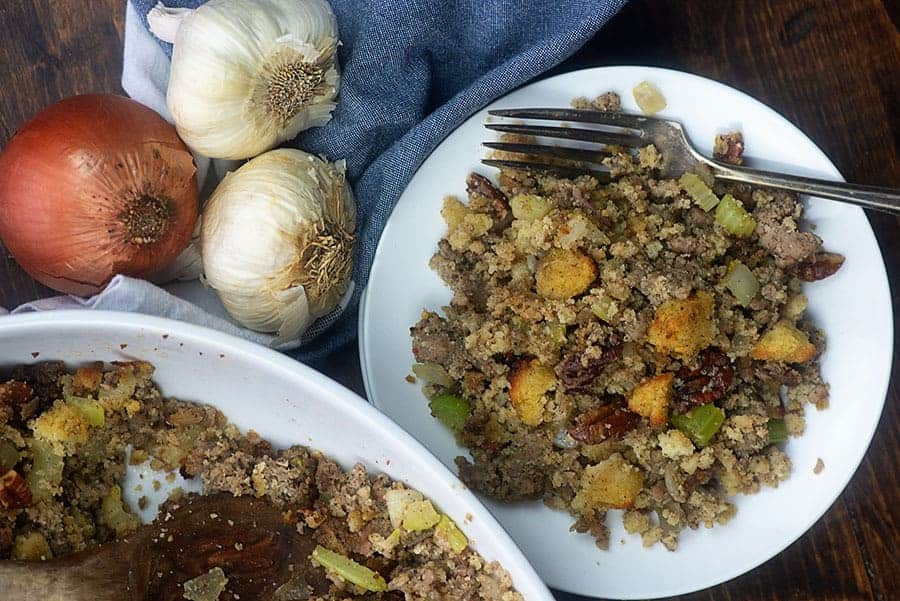 11.) Lemon Thyme Roasted Chicken
Yummy roasted radishes with juicy chicken taste surprisingly sweet and flavorful when they are infused in the oven together. You can find this fantastic recipe on gnom gnom.
12.) Crispy Cuban Roast Pork (Lechon Asado)
It's a must recipe to try this holiday season or any time of the year. This crispy pork is loaded with savory and unusual flavors that would surely satisfy your guest's taste buds. You can get the recipe from Cook 2 Eat Well.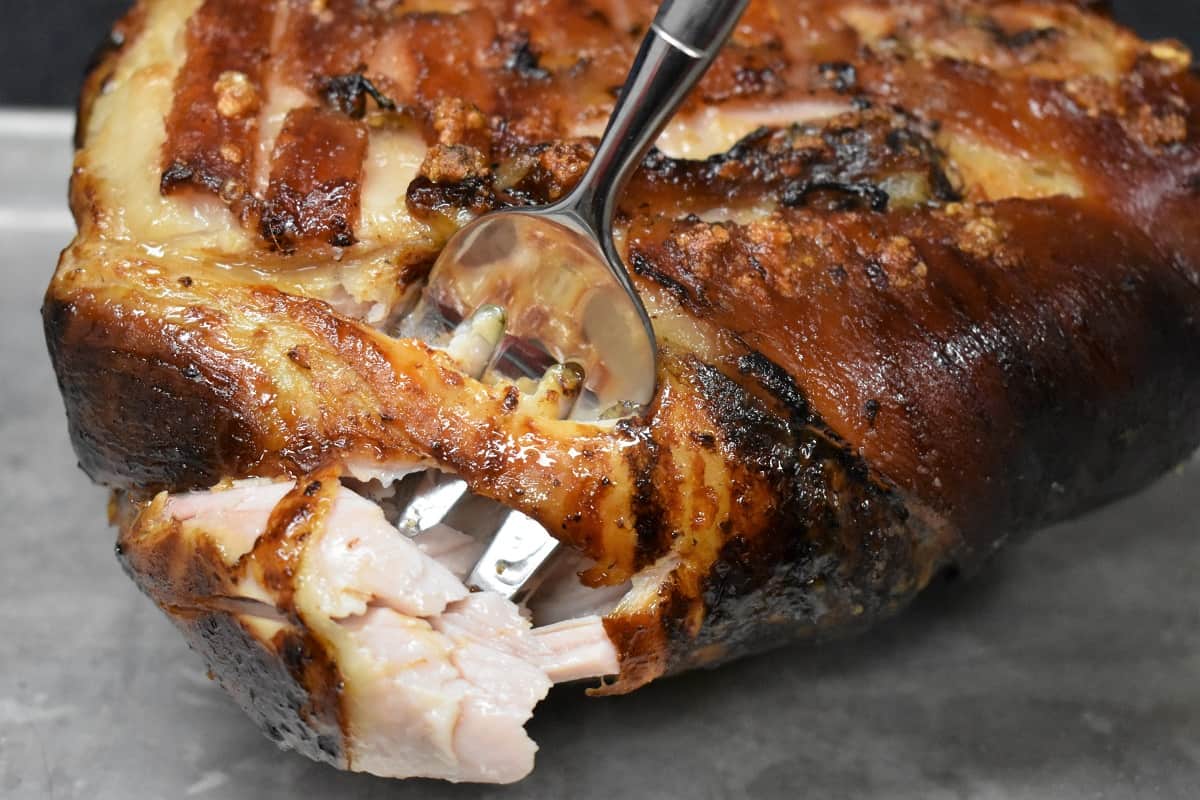 13.) Keto Lamb Chops with Herb Butter
It's simple, superb, and Full of Flavor. Try this dish, and we are confident that is will become one of your favorite keto meals. Meat, herbs, and lemon butter; what could be better than that. Click here to get this fantastic recipe.
14.) Keto Baked Salmon with Lemon and Butter
You would be proud of this lemony salmon keto platter. Try this at home for friends and family or wow everyone this holiday season with this simple, flavorful recipe. You can get the recipe from Moms Secret.
KETO DESSERTS
15.) Low-Carb Pumpkin Pie
Low-carb delicious pumpkin pie with coconut cream is a perfect dessert that you and your keto friends can enjoy without feeling guilty.  It's simple to make and offers warm homely flavors. Try it anytime or during the special holiday seasons. Get this recipe from Wholesome Yum.
16.) Low-Carb Cinnamon Apples with Vanilla Sauce
This dessert would be a fantastic treat for your taste buds. With low-carb creamy sauce and warm apples with heavenly spices, it's everything you and your family would love. Want to learn this recipe then click here.
17.) Keto Snickers Bar
They are low-carb, delicious is perfect. Enjoy it as a dessert, or serve this to your friends if you are aiming to see smiling faces. Get this recipe from The Big Man's World.
18.) Low-Carb Eggnog
This Low-carb, creamy, eggnog recipe with a hint of vanilla and orange will complete your holiday meal beautifully. Click here and learn how to make this easy, yummy dessert.
19.) Pecan Pie Cheesecake – Instant Pot Recipe
This keto pecan pie cheesecake is mind-blowing deliciousness. If you are looking for a sugar-free and healthy recipe, then this one is perfect for you. Get this recipe from All I Can Dream about Food.
20.) Low-Carb Chocolate Peppermint Cheesecake Mousse
Low-carb chocolate peppermint cheesecake mousse is a perfect substitute for your traditional sugary dessert. It's an easy, sugar-free dessert, and you can prepare in just minutes. Serve your guests with this elegant dessert and get loads of compliments. Click here to get this recipe.
21.) Creamy Low-Carb Rice Pudding
Here we present the keto-friendly, amazing low-carb version of the classic rice pudding. Click here to learn the recipe so you won't miss out on all the yummy flavors.
Final Thoughts
Whether its appetizer, mains, or hearty desserts, we have listed for you the most elegant recipes that won't derail you from your keto journey. Try these recipes for your friends and family cause we know you can't go wrong with these!
-Shameka Renee